A TRUE-HEARTED CONVERSATION WITH YOURSELF
The 45 unique cards inspire you, each with a unique flow, to listen to your inner voice and wisdom. Something that most of us have never really learned. By going through the right questions at the right time, you'll experience how you can lead a life from a deep sense of knowing.
GROW IN AWARENESS
With everything that life demands from us, looking beyond the surface and routinely checking in with ourselves can prove challenging. And yet, our desire to expand our awareness and lead a harmonious life seems greater than ever. Check-in Cards teaches you to work with what presents itself in your life. Proactively select one of the 45 themes in line with your feelings at that particular moment.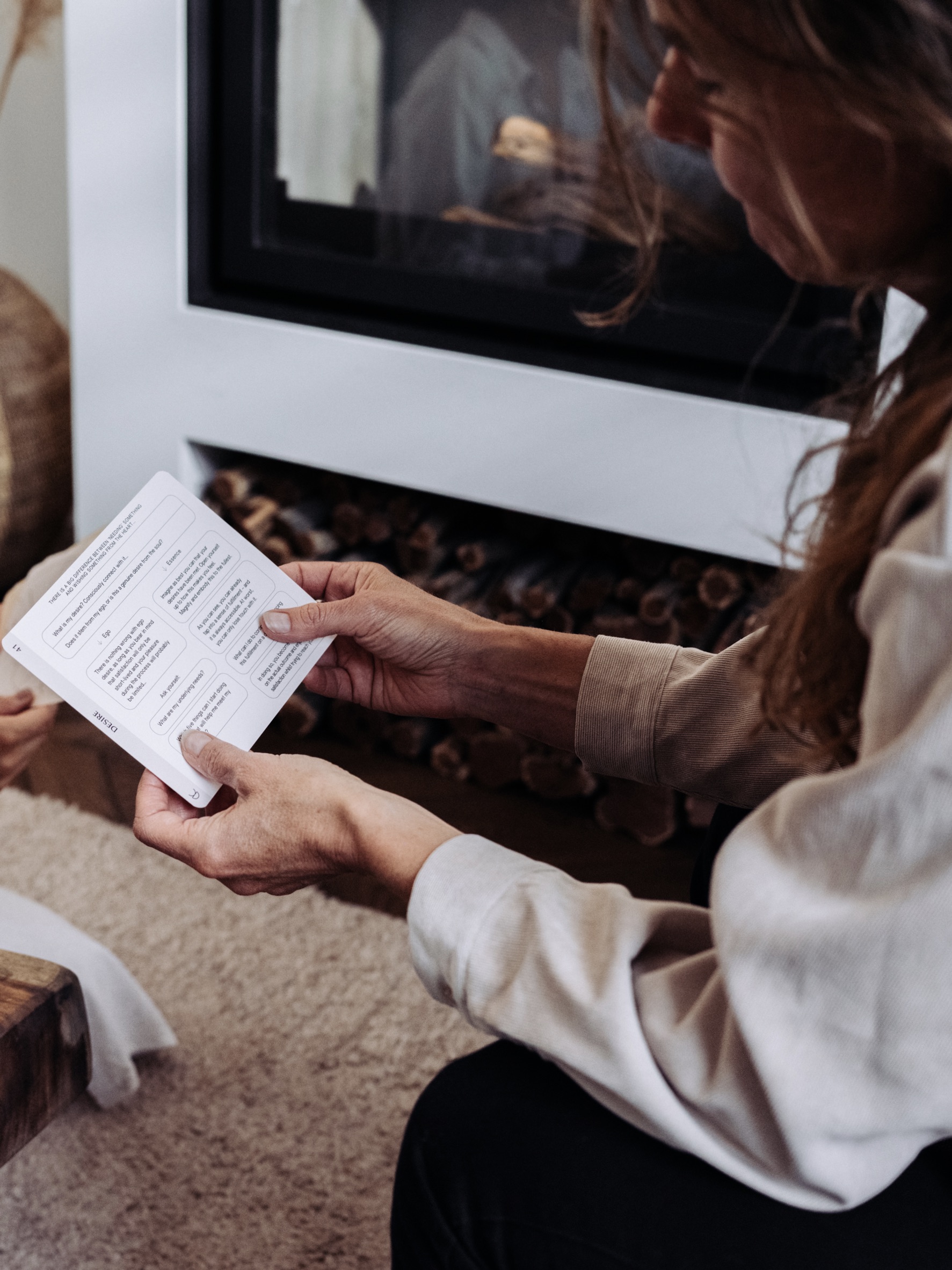 Daily alignment
The secret of our future, our happiness and our growth is hidden in the daily alignment with ourselves. Check-in Cards offers concrete tools for this. Save yourself hours of reading, studying and searching and let the cards be your guide in staying connected, aware and centered in life every day.
45 cards that lead you to a place where you can always find the answers to everything.
order your check-in card deck
Discover more...
WHAT MAKES CHECK-IN CARDS SO UNIQUE & POWERFUL?
A TRUE-HEARTED CONVERSATION WITH YOURSELF
Checking-in with yourself is something we never really learned. It is a challenge to look beyond the surface of our life and ask ourselves the right questions. Check-in Cards offers concrete tools for this. By checking in you tap into your inner wisdom, you add new dimensions to your awareness and you navigate to a deeper connection with yourself.
YOU PROACTIVELY SELECT A CARD
In line with your feelings, you choose one of the 45 theme cards very specifically. By checking in with yourself regularly, you will experience more influence on your own state of mind, perspective, communication and actions. "Pro-active people carry their own weather with them". That's how you can look at this set of cards.
The difference with intuitively drawing a card, which can also work nicely, is that by consciously selecting a card you already take a first step to look inside.
45 EXPERIENCE-ORIENTED CHECK-IN FLOWS
Each check-in takes you through a unique flow to the direct experience within yourself. When you pick up a card, you choose to really take a look inside. We help you to ask yourself the right questions at the right time, so that you address your inner wisdom and answers come to you naturally.
SUPPORT AT ANY TIME
As long as you live there will always be moments/times when you get out of balance. Growth often involves expanding your comfort zone, experiencing discomfort, stretching your mind and increasing awareness. Check-in Cards has been developed for all those moments when you encounter something within yourself, whether or not triggered by an outside situation.
Of course you can also check in with yourself without reason. Purely from the need for alignment, stillness, inspiration or awareness.
MANY WAYS OF USE
Check-in Cards is first and foremost a meaningful gift (for individual use), for anyone with an interest in personal development.
In addition, the card deck is also often used during:
Yoga classes & retreats where teachers incorporate the check-ins into their class / program.
Coach programs where coaches use the card deck as a guideline during a program or to explore a specific theme. The cards also work perfectly as an intermediate assignment.
Workshops, intervisions & training where the cards are used as a reflection and journal component
The Check-in Cards are also used by couples, friends and family members who want to have meaningful conversations. Everyone chooses a card (for themselves or for each other;), whereby the answers are exchanged with each other.
"TERUGKIJKEND IS HET WONDERLIJK TE ZIEN, DAT BIJ AL ONZE EERDERE STAPPEN EN KEUZES 'INCHECKEN BIJ JEZELF EN ELKAAR' ALTIJD AL DE RODE DRAAD VORME."
Tijdens een Check-in sessie verschuiven we van 'praten over' naar 'praten met', van uitsluiting naar inclusie, van verwarring naar helderheid, van verharding naar verzachting... Zo bewegen we van de status quo naar het potentieel.
Deze kaarten zijn prachtig vorm gegeven, en dat alleen al is een cadeau. Heel fijn dat deze kaarten ook in het Engels zijn (voor mijn Engelstalige klanten). Ik ben ook erg blij met de verschillende categorieën, dat helpt de meest passende vragen te kiezen. De hele set is zo'n enorme rijkdom aan vragen, een must-have voor elke trainer en coach.
The 45 beautiful art cards with clear and deep questions on the back do the trick. For all occasions and moments in your life. Advice yourself by checking-in. Let de questions on the cards guide you. A precious and meaningful gift (designed by my favourite Dutch artist Anne Olde Kalter)
I am super happy with the Check-in Cards. It's maybe the best present I have ever given myself in the field of personal growth and development. It is truly a great product you have developed!
Truly recommendable. Beautifully designed, strong content and very impactful. It can be used in various ways. I have been experimenting with the cards for the past few weeks and it always yields something beautiful. For myself, as a coaching tool or as an intermezzo during meetings
What a super cool set of cards. I have looked at each of them carefully. The colors, images and the flow of words and questions ... and they even feel soft. I can recommend them to everyone.
A personal gift
For anyone interested in daily alignment and personal growth.
We are so absorbed in the everyday that it seems as if there is nothing else, while there is an inner truth that is always within reach, but with which we feel less and less connection. Each card contains essential reflection questions that address your inner wisdom. By using the cards you learn to see and respond to situations in a different way and to consciously give direction to your life.
How to use?
It's simple. Select a relevant card related to any specific situation whereby you feel the need for support, clarity or inspiration. This could be for exampel, Perfectionism, Letting Go, Managing Energy or Purpose.